Pandemics and their measures are an all time phenomenon. Ida Pfeiffer's Austria was no exception. In her time, the military defense border, which at one time had been constructed to defend the southeastern border of the Habsburg Empire, was a sanitary cordon as well.
Plague border
Just past Belgrade, on the northern banks of the Danube, lies the town of Pančevo, ''Panscova', as Pfeiffer notes in her diary on March 26, 1842. 'is a garrison town and here lies the first quarantine station.' Just a matter of fact small sentence. No further explanation about the how or why. Only further on in her diary it becomes clear what's going on. Europe is afraid the plague will enter its borders again via the Ottoman Empire. South of the Danube everyone is regarded as being potentially contaminated. For instance, during her boat trip Pfeiffer is allowed to go ashore and stretch her legs on the north banks of the Danube, but absolutely not on the south bank. In order to make sure that everyone keeps to the rules, Pfeiffer writes down a few days later, a guard accompanies the travellers until the ship will have reached Galatz (Galatį) on the Black Sea.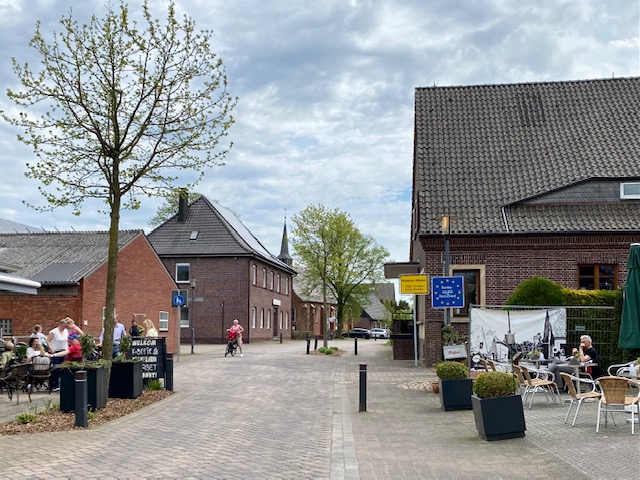 Poor clothing
Ida Pfeiffer jots down in her travelogue that on the northern banks guards have been posted every two hundred paces. 'But you would be mistaken to think that they stand on guard. They hang around their posts in poor and torn clothing and often also barefoot.' The guards stay in a sort of stable with a fireplace in the one corner, a clay oven in the other and a hole in the wall for a window. From the whole tone this piece is written in, it is clear that Ida Pfeiffer wonders whether the Austrian men are up to their task. On Russian territory, Pfeiffer writes sarcastically, at least they wear uniforms.
She is amazed to see how easily cows, sheep and goats are declared plague-free. 'When the animals from a contaminated area approach a clean area, the boat which carries the cattle has to stop some forty to sixty paces from the banks. Then every animal is thrown into the water and driven to the banks where people are waiting for them. And after this operation they are supposed to be free from plague,' a sceptic Pfeiffer writes.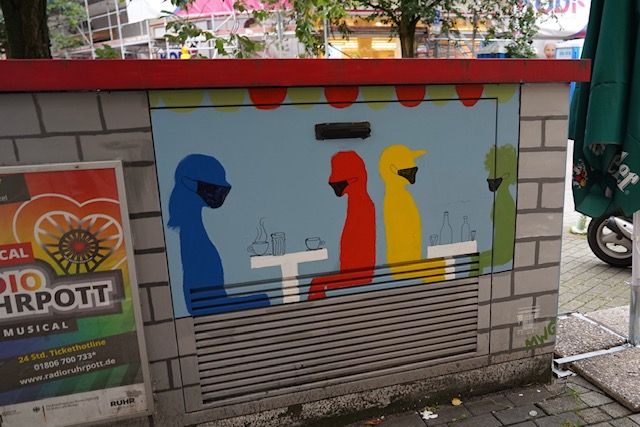 Handle with pincers
At the port of Galatz a wooden railing separates the incoming and outgoing travellers. 'The tangle that arises here is big,' Pfeiffer notes. Orders are yelled, people get pushed back. Others call out that you can't get near them. Packages may not be handed over, but have to be put on the ground. And a letter which has to be delivered to the other side is handled with pincers.
She gloats over the spectacle that unrolls before her eyes. Until she realizes that on the return trip from her journey she too will be regarded as potentially contaminated and consequently will have to be quarantined. She is not afraid to become ill. 'This caution appears to me very exaggerated, especially in a time that there is neither plague nor any other contagious disease in Turkey.'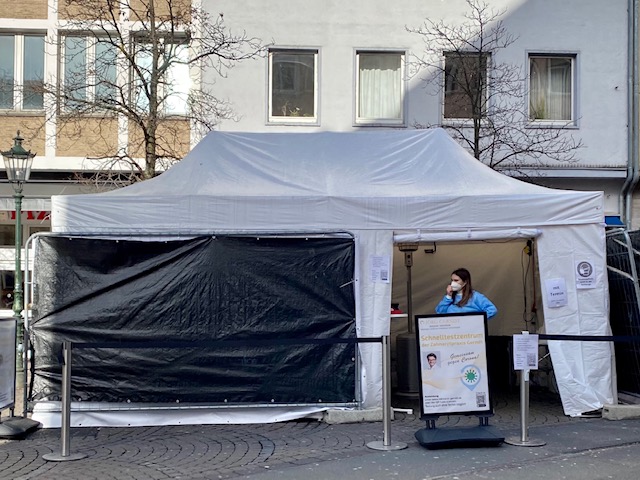 Six Habsburg Feet
Christian Promitzer is a historian at the University of Graz who has done research into social distancing in times of pandemic in the Habsburg Empire. Among other things, he describes what happens at quarantine stations. Packages were kept there for a certain period of time, but travellers too had to sit out their quarantine there. They were put together in groups. When taking a walk in the courtyard, it was not allowed to touch someone from another group. If that did happen, the group that was further in the quarantine process could start all over again. There was also a procedure for mail. Pfeiffer already saw a letter being handled with pincers. Promitzer tells what happens next: 'The letters were perforated and steamed. The instrument with which they were handled was the so-called Kontumaz (quarantine) fork. Even now, with letters from those days, you can see the cuts.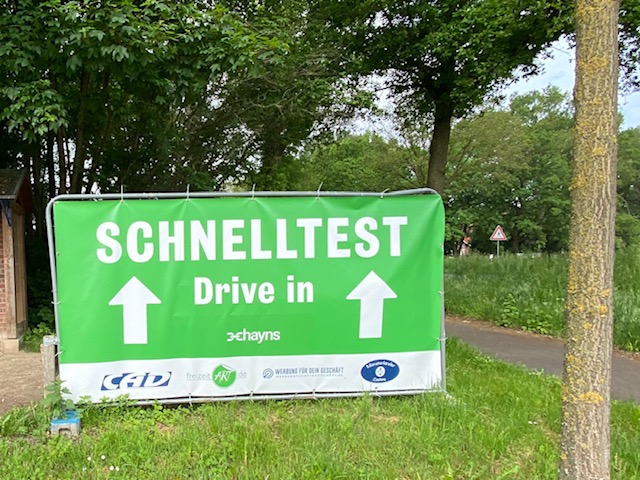 Vreden, Germany. Quick test centre at the border, summer of 2021
On the road
Suppose I were to make this trip from Vienna now. Would I get to the Black Sea without too much fuss? I have my vaccinations and my booster, so Austria will let me in. Slowakia, Hungary and Rumania are yellow on my travel map. No problem. Serbia is an orange country for Dutch people: only necessary travel is allowed. Maybe the last bit, from Galatį to the Black Sea is the most hazardous part of the journey. Here, the northern banks of the Danube border on Ukraine and with the threat of war from Russia you would rather not be there at the moment.
Main photo: Kunsthalle Düsseldorf. The Dutch museums face an obligatory lockdown at the end of 2021, Germany's museums are open.